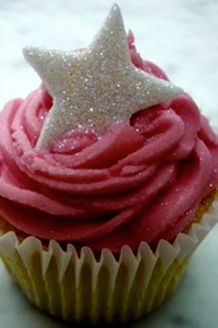 CAKE ORDERS
Terms and Conditions....the small print
Each and every cake is made from scratch. We use fresh ingredients, free range eggs and weigh and bake everything. The cupcakes available are baked in paper or foil cases, and special orders can include a choice of cases including silver and gold, or a colour to enhance your display. Some cases may become transparent when baked due to the rich cake mixture. If customers supply their own cases we held responsible if transparency occurs. Cakes may also be supplied on wooden boards or your own plate or stand. We don't buy in, overstock or make any of our cakes anywhere but our own premises.
Ordering*
We prepare cakes for delivery with prior notice of two weeks or more. We are now accepting orders over 50€ for Delivery in SW France. Delivery charges for cakes under 250€ will apply. Smaller orders subject to availability and collection.
Please give us as much notice as possible. Weddings are often booked a year or more in advance.

Payments
ALL cake orders - Payment in full at the time of order with exception of Wedding Cakes ordered in at least 3 months prior to the wedding.

ORDERING FOR WEDDING CAKES ONLY*
A 50% non-refundable deposit is required to reserve your order; the remainder is due at least one calender month prior to your event. Your order is not confirmed until we have received your signed contract/Devis or confirmation email and 50% non-refundable deposit. Changes in design may be subject to approval. Cake flavours may be decided no less than ONE MONTH before the Wedding cake delivery. Fruit cakes (THREE) 3 months before. We have incorporated cakes made my family and friends i.e. a fruit cake tier in the past however due to levelling storage and handling the price remains the same as if we created each tier.
Payment methods
Payment can be made by cash or cheque. Cake orders placed with less than one months notice require payment in full in cash at the time of ordering. ALL CAKE DEPOSITS are non-refundable.
If you cancel your order, your 50% balance payment is refundable provided is notified at least 31 business days prior to the event in writing. There is no payment refund on orders cancelled within 31 business days of the event.
Tasting appointments can be arranged. It is necessary to discuss the varieties you wish for prior to the tasting. Cake samples may have been previously frozen as each is individually made to order. There is a non-refundable 50€ deposit required for appointments, payable by cash or cheque in advance. The 50€ deposit will be deducted from the final cost of your cake.
*This can allow for alterations in guest numbers and especially for cupcake wedding cakes numbers can be finalised one month before the event.

Stand Hire
We do not hire stands. Amazon and ebay supply reasonable stands that may be folded away for another event or esily resold. We can advise on suitable stands and are happy to display your cakes how you wish.
If you are unsure contact us.

Please Read carefully:

All orders are for collection unless delivery specified and included in the Devis.
Terms & Conditions

All orders are for collection unless delivery specified
PLEASE CALL OR EMAIL
Emailing us often causes confusion as descriptions can sometimes be different to the work involved or expectations. Please call and let us know your full requirements before we quote.
Questions, messages or for quotations. Please ONLY phone us
Minimum order lead time 14 working days excluding weekends and only subject to availability.
N.B Allow at least 7 days extra to avoid disappointment during busy times.

Cakes will be supplied on suitable boards and wrapped in cellophane gift wrap or boxes depending on the type of cake and suitability for wrapping.
We advise Cello wrapped cakes be transported in the footwell or boot of the car. No responsibility will be taken for damage from the moment they are collected, delivered or if transported.
Bespoke colours, messages and designs orders may be placed by phone. We may require to follow up by email to confirm
Please call +33641255706
Cancellations less than one month before the event will not be refunded under any circumstances.