Préparée à base d'oeufs frais, de crème frâiche et de fromage, la quiche est l'une des tartes préférées de français.
Quiche individuelle (de taille généreuse) disponible sur le marché du Samedi matin ou quiche grand format sur commande. Pour connaître les saveurs de la semaine, consultez les réseaux sociaux ou contactez-nous !
EN Quiches are the staple summer savoury cuisine of France. Serve hot or cold. If you desire melt in mouth shortcrust butter pastry with fresh ingredients you will love these.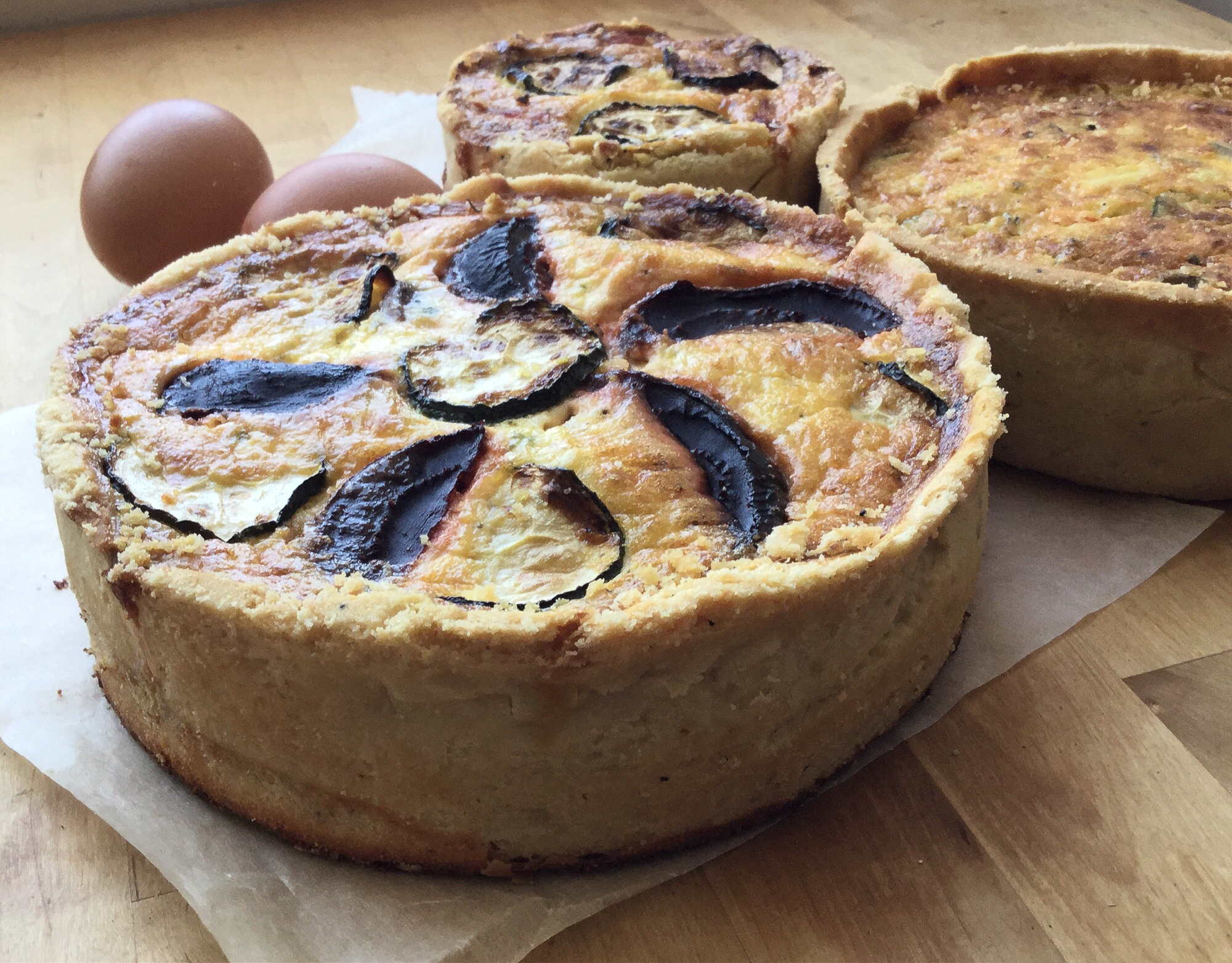 Deep fill Quiche time
Quiches can be ordered for collection in Montcuq 46800 or at scheduled markets. We can also to fit in with your event or party.
3 days minumum notice required pleeeeeease!
These are not your average wet pale standard snack, they are made with free range eggs, crème fraiche, well seasoned and richly filled. The butter shortcrust pastry is our own recipe and a light sprinkle of poppy seeds (optional if you prefer). You will not be disappointed.
Fillings may be tailored to preferences, and if you require alternative combinations ie Asparagus, aubergine or Ham, salmon, tuna, lardons or chorizo added to vegetarian varieties etc these are available subject to notice and availability and may incur a small surcharge.
*Vegetable medley Cheddar
*Roasted Beetroot courgette mushroom and onion *Broccoli, red onion, cherry tomato
*Goat cheese spinach slow roast onions
Cheddar Lardon courgette and mushroom
*Cantal cheese, sundried tomatoes, rocket
10cm deep filling 4,50€
16cm deep filling 7,50€
24cm deep filling 18,00€

Orders need to be with me by midday Wednesdays latest for market collection.
Montcuq collection (not weekends) by arrangement.
A selection of 10cm and 16cm will be on the stall subject to availability
Testimonial, thank you Iris ❤️
Delish Delish Delish! Everything was delicious Maxine, our friends loved the quiches! Everybody enjoyed your food so much. Thank you for saving me so much work! Hope you are enjoying a relaxed Sunday....... See you soon Iris x
*suitable for vegetarians
ALLERGENS LAIT MILK , EGG OEUF, GLUTEN , SEL SALT
Pastry ingredients FARINE DE BLÉ (GLUTEN) BUTTER BEURRE (Lait) Sel
filling based on Free range eggs, creme fraîche, thyme, salt pepper, cheese