From an intimate afternoon buffet with friends, casual wedding reception or party we can offer delcious catering solutions. In these uncertain times we can work with you on numbers and menus to comply with guidelines and presentation. From sealed cutlery to canapes and individual taster grazing plates, we can accomodate the changing requirements.
Bookings will need a 50% deposit to book and balance 1 month before the event therefore may be completely confirmed closer to event date.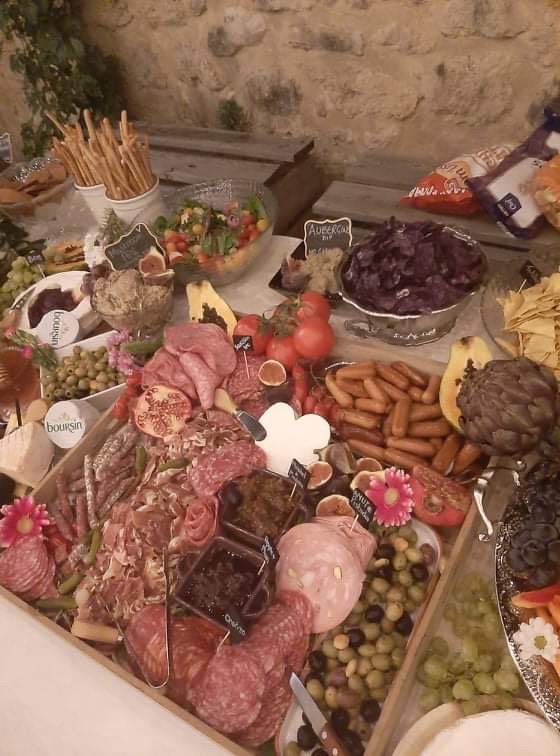 GRAZING PLATTERS AND APERO POTS MAY INCLUDE:
MATURE CHEDDAR, CAMEMBERT, BRIE, ROQUEFORT, VEGAN, VEGETARIAN OR COLD MEATS, SAUCISSON, OLIVES, CRACKERS, MARINATED AND PICKLED VEGETABLES- SELECTION OF SEASONAL FRUIT AND VEGETABLES - DRIED FRUITS AND NUTS* - ASSORTED DIPS ARTISAN BREADS.
Served on large natural wooden platters .
Minimum order grazing platter may apply
Bamboo or pulp or sealed disposible tableware available.
We also supply vegan, vegetarian buffet, canapés and alternative catering.
Fancy a Pie'n'mash night? Ask for details....make life fun!
PIE'N MASH ....well why not?
Served on disposible palm or bamboo recyclable plates, napkins and wooden cutlery included (if required).


Pie selection from our catering menu with creamy buttery potato mash, Gravy....onion, red wine or rich beefy gravy served with one choice of Braised leeks, peas (mushy minted or petit pois)
Priced from 12€ pp plus sundries and travel (minimum 20 people)
We are based in Montcuq 46899 and cater within 200km subject to availability and have < le pass sanitare> and fully covid compliant.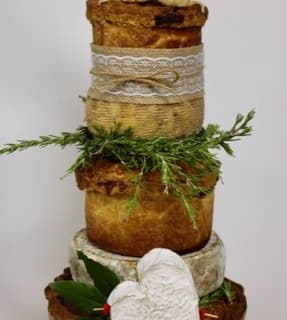 They say let them eat cake....well how about a pie!
We have previously done these as cold served pork pies, dressed for the event, with even an alternate cheese layer as a more impressive centrepiece.
A wonderful and striking savoury addition to a grazing table or a stand alone 'cake' alternative.
Please contact us to discuss your requirements.
Prices start at 250€