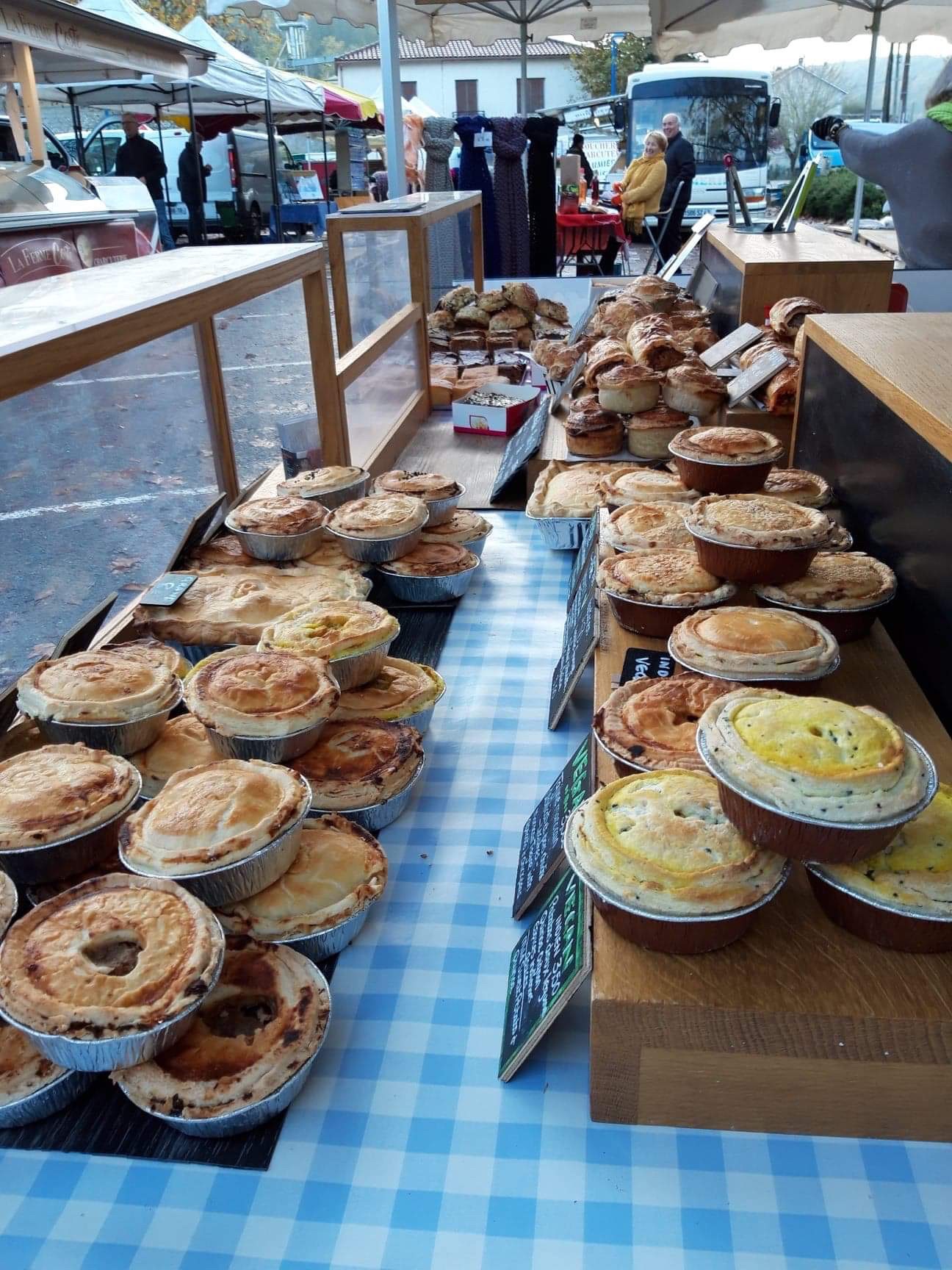 ••Fermeture exceptionnel Septembre inclus retour sur les marchés le 9 et le 10 Octobre.... bientôt••
updated 15th September 2021
Reopen 9/10th October 2021
• Saturday morning (Montaigu de Quercy)
• Sunday (Montcuq) market outside Chez Laurent Boucherie opposite Tabac.
We will continue as soon as possible Saturday mornings at Montaigu de quercy and Sunday morning at Montcuq
Note we also do catering for all parties and events with grazing buffets and even pie'n'mash!
Please reserve by Thursday 10am to avoid disappointment as markets are quite busy now, especially for Sunday! We cannot take reservations after this time therefore we will schedule for the following weekend.
Individual handmade pies..3,50€ each
Cuban beef picadillo
Steak slow cooked in Guinness.
Chicken and Mushroom in creamy white wine sauce Chicken and leek in rich gravy Chicken, coconut, sweet potato, spinach curry
Vegetarian individual pies: 3.50€ each
Homity Potato leek onion cheddar chives Ricotta Spinach mushroom garlic and onion Sweet potato, coconut spinach curry
Picnic pies (Enjoy hot or cold on the go or with salad ) Roasted vegetable tagine with apricot chickpeas and Humous picnic pie (Vegan)
Pasties ....traditional cornish style pasties will be avavilable later in the year when swede back in season. Cheese & onion pasty 3,50€
Savouries Jumbo BBQ pulled pork 3€ Jumbo Savoury pork sausage roll 3€ Cheese and sping onion veggie sausage roll 3€ Pork pies individual size 3€
Apero bread stick:
Cheddar, olive and red onion melange 2€ each (also available at Bourg de visa Marche gourmand)
Cakes: 2€ each( Individual portion cakes) Cherry clafoutis
Carrot cake GF*
Chocolate Brownies
Lemon drizzle Banana chocolate chip bread cake GF*
Sultana scones 1,50€
Desserts: 3€ each Raspberry and white chocolate cheesecake Banoffee Key lime on ginger biscuit base
Call 0641255706 or email: [email protected] to reserve.
www.britishbakeryfrance.fr
Mad note........we are busy making Christmas puddings....yes how crazy is that but to get rich mature puddings we need to make them now for ordering from September!!
Cash or Secure Card payments via Sumup contactless card payments payments